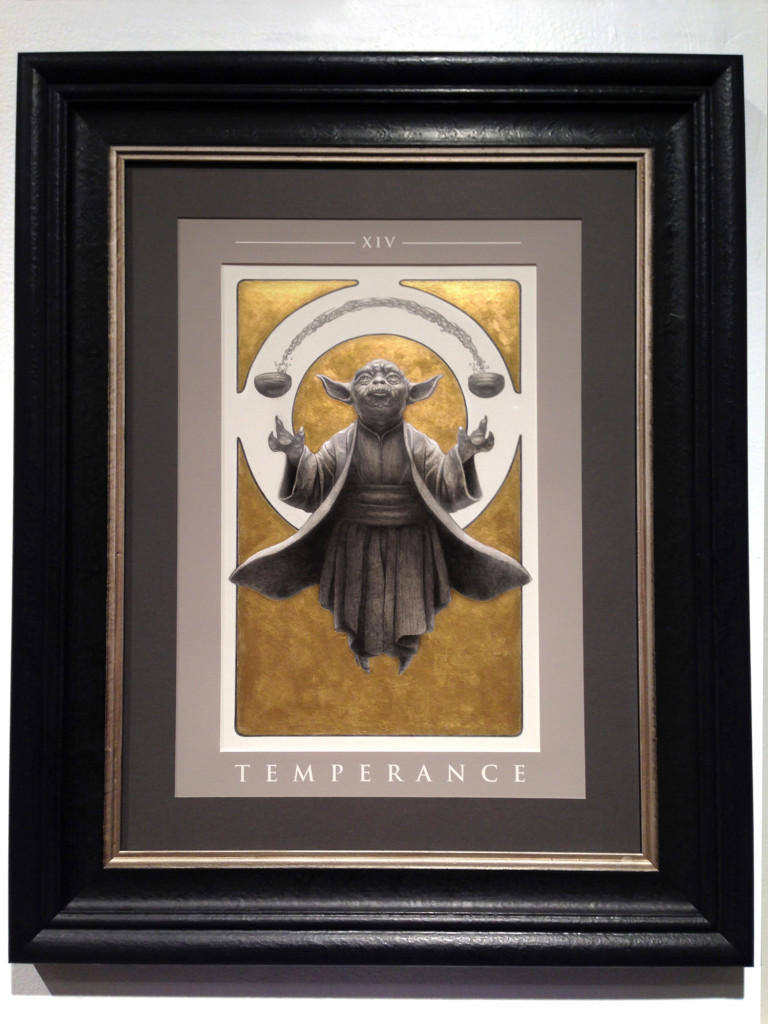 The Force is strong with you, San Antonio.
Yesterday's STAR WARS: THE FORCE OF ART exhibition at the Centro De Artes in downtown SA was a celebration of all things Jedi and Sith, and it was a phenomenal event. Texas A&M University / San Antonio owns the facility and said it's the most successful audience attraction that the building has had since the days of the Museo Alameda. It was a one-day art extravaganza sponsored by Alamo City Comic Con, and there was a line of fans out the door and down the steps before the show even opened.
Waves of huge crowds surged all day long, despite rainy weather and a busy holiday shopping season. I was one of the featured artists and presented a large-format conceptual sketch for a Yoda tarot card (pictured above). Artworks by Drew Struzan, Stephan Martiniere, Adam Hughes, Terese Nielsen, Tommy Lee Edwards, Scott Harben, Lawrence Reynolds, Mike 'Comp' Arguello, Adrian De La Cruz, Alfredo Lopez Jr., Gary Villarreal, and so many more made for a dynamite collection.
This is the first time Alamo City Comic Con has ever organized and sponsored an art event of this type, and huge congrats to Apple De La Fuente, Austin Rogers, Wes Hartman, and crew for a bigtime success. Special thanks to Brandon Oliver, the 501st Legion, ACCC volunteers, and the South Texas Collectors Expo as well. Saturday's show planted another seed toward San Antonio becoming a pop culture art mecca, and ACCC has already announced that they're sponsoring their next museum celebration on March 19th celebrating 'Batman v. Superman'.
It was a great day for San Antonio, and I think there are more great ones ahead for this kind of art in this city.