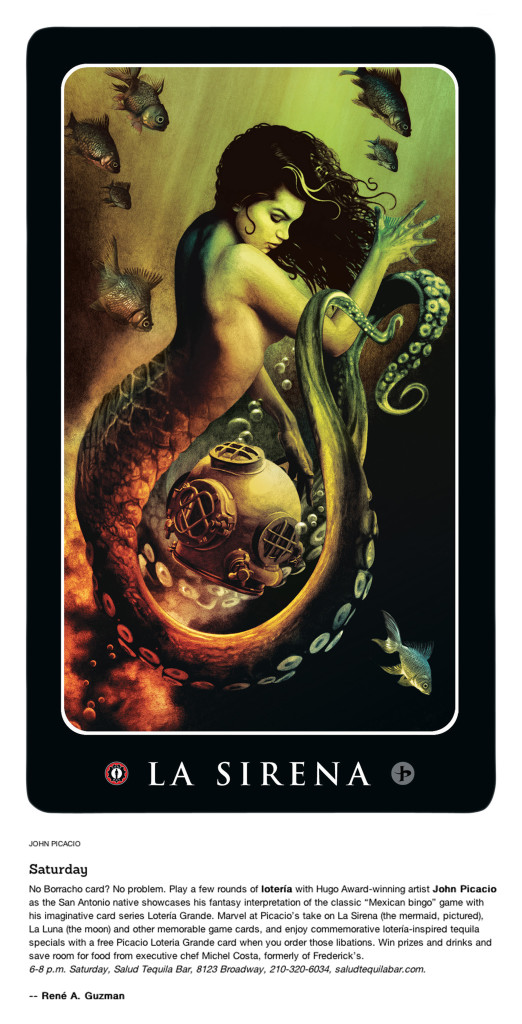 Can't wait for tomorrow night at Salud Tequila Bar. The San Antonio Express-News has a writeup about Loteria Fest in today's Weekender section. I'm hearing that we may have some Game of Thrones fans arriving in costumes inspired by my A Song of Ice and Fire artwork? So good. Cosplayers — bring it. All costumes welcome. And if you're like me and you won't be in costume, you're still gonna have a blast.
Be there tomorrow night, San Antonio. Play Loteria. Enjoy the best tequila selection in town. Win prizes and get your Loteria Grande cards and posters + A Song of Ice and Fire art prints. I'm stoked. 🙂
UPDATE: My Loteria Grande 'Once' card sets will be available at the signing for only $20, while supplies last! Limited-run posters of my 'La Luna', 'El Corazon', and 'La Calavera' art are no longer available online but they WILL be available at this event for only $15 each.
And Game of Thrones fans — BONUS: I'll have a special reduced price on my 17″ x 22″ signed and numbered A Song of Ice and Fire archival prints. These retail online for $125, but at Loteria Fest, they'll be available for an exclusive event price of $80 each (including free archival bag and archival backing board). First come, first served, please. I'll also have a limited supply of archival 11″ x 14″ prints (which are not available online) for only $25 each.
So if you or your friends are Game of Thrones / A Song of Ice and Fire fans — see you at Salud Saturday night!