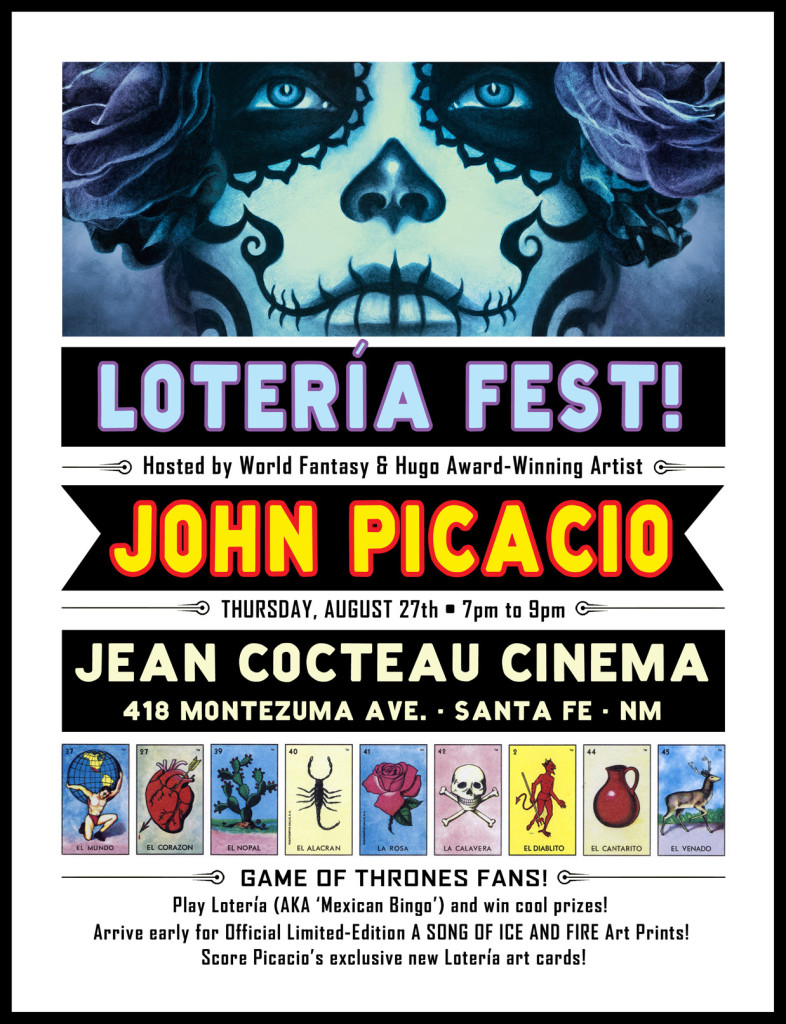 SANTA FE, NEW MEXICO: You ready to play Loteria and win fabulous prizes?
Here's the skinny: Starting August 12th, George R. R. Martin's Jean Cocteau Cinema will host "Loteria Fest" — a first-ever exhibition of large-scale giclées featuring my first series of Loteria artworks. They'll also have a limited supply of my first eleven Loteria Grande cards for sale, as well as limited-edition prints of my George R. R. Martin / A Song of Ice and Fire calendar artwork and other cover artworks. The exhibition and sale will run from Wednesday, August 12th to Saturday, August 29th.
What you don't want to miss is the big night of the whole event. That's Thursday, August 27th, and that's when I'll be in town to host several rounds of Loteria (AKA Mexican Bingo), giving away terrific prizes including DVDs, books, signed Loteria posters, and more. I'll be there from 7pm to 9pm, playing this traditional Mexican game of chance, and signing cards and posters. I'm really looking forward to it. If you've played Loteria before, you know how fun and addictive it is. If you've never played, this is your chance to learn, as it's super-easy to do so, and you'll have a blast. Here's some more info on the game and how I'm re-imagining it in a new and personal way.
FYI: The Cocteau has posted an online write-up about the event, but they may be having trouble with their website, as their posted information currently contains some inaccuracies. So don't get confused. The information I've posted above is what you need to know. Holler at me if you have any questions.
The theatre only seats 132, so make sure to mark your calendar and get there by 7pm on Thursday the 27th. I'll have more updates soon, regarding the prizes and goodies you'll see that night.
Help me spread the buzz in advance of this event, Santa Fe! This is my first time to your town. Let's pack the Cocteau!
In Loteria We Trust! 🙂