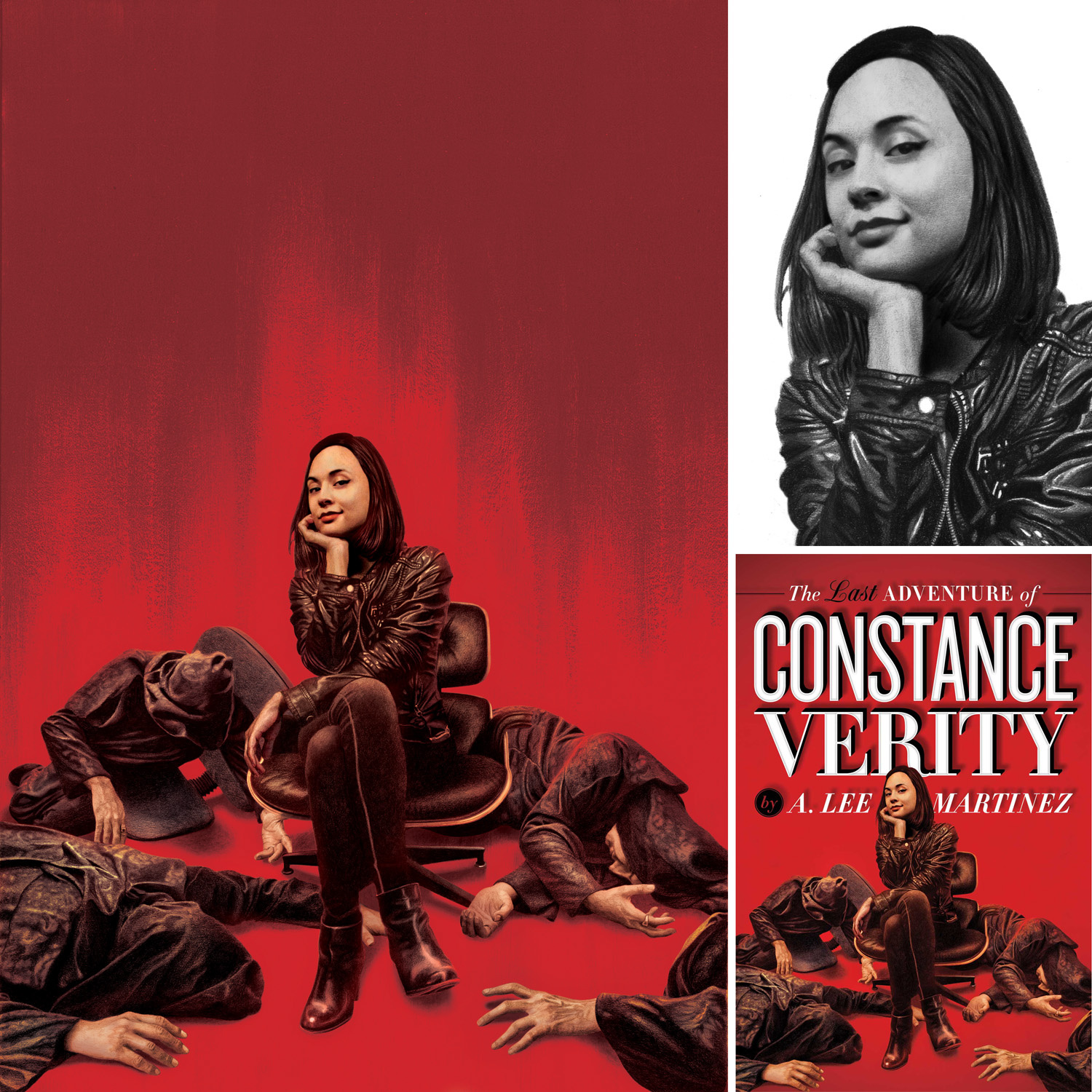 A. Lee Martinez's The Last Adventure of Constance Verity debuts today in hardcover from Saga Press, and I illustrated the cover art for this one. Here you see the final cover art, an enlarged detail of the final graphite drawing, and the finished cover with typography. The final drawing is 22″ x 28″and I had fun drawing Constance big.
Who is she? As the author says, "she's Nancy Drew, John Carter, and a little bit of Doc Savage all rolled into one. She's fought aliens, vampires, and dinosaurs. She's been to the edge of the universe, the center of the Earth, and the beginning of time." She's done it all, folks. So what does someone this super want more than anything else? Read the book and find out. 🙂 A funny tale full of absurd humor and snark awaits you. Seriously, if you like your fantasy snarky — and so many of you do — THIS BOOK IS YOUR JAM.
There's another good reason to pick this one up this week, and to illustrate that, I want to talk about the depiction of race on book covers. We've seen so many fails, face palms, and missed opportunities (understatement) when it comes to the depiction of non-white characters on book covers. When Saga Press' editorial guru Joe Monti sent me the manuscript, I discovered there was very little description of Constance's physical features. It was clear that this was done on purpose, and thus, I had to question how much I wanted to reveal her features on the cover, as I designed the character. I decided early in the process that I wanted to propose we not hide Constance, and that we not default her toward being an exclusively Caucasian character. I wanted her to be multi-ethnic. I wanted to see some Mexican@. I wanted to see some Asian. I wanted to see if I could create a character that could include more of us rather than only some of us.
For those that don't work in publishing, I know this sounds like a perfectly innocent idea, but trust me, that this kind of visual proposal makes many sales/marketing/editorial/art departments VERY NERVOUS. There's a self-fulfilling prophecy in publishing amongst many (but thankfully, not all) that says, "COVERS FEATURING NON-WHITE CHARACTERS DO NOT SELL."
Let me say for the record — I would love for all of us — you, me, and the person next to you — to finally kick that ridiculous mentality from here to oblivion, never to return. We have a long way to go. We can do this though. Want to be a part of the winning?
Buy this book during its release week. Tell friends to do so. Spread the word. Shock the publishers and the bookstores, and send this book to a second printing in record time. Publishers love success, and other publishers love to copy that success. This mission is doable and IT SENDS A MESSAGE THAT NON-WHITE CHARACTERS ON COVERS DO SELL BOOKS.
And if you don't care about race issues on covers? No worries — Lee's book stands on its own with an action-packed story that will leave you wanting more Constance in your life.
Final note — this was a TEAM effort to allow me to draw Constance this way. I asked to do so, but you can thank Saga Press' editorial chief Joe Monti, art director Michael McCartney, and the author himself for saying, "Sure. Why not?" Without all of them saying those three little words, Constance would be someone else, instead of being a little more of us.