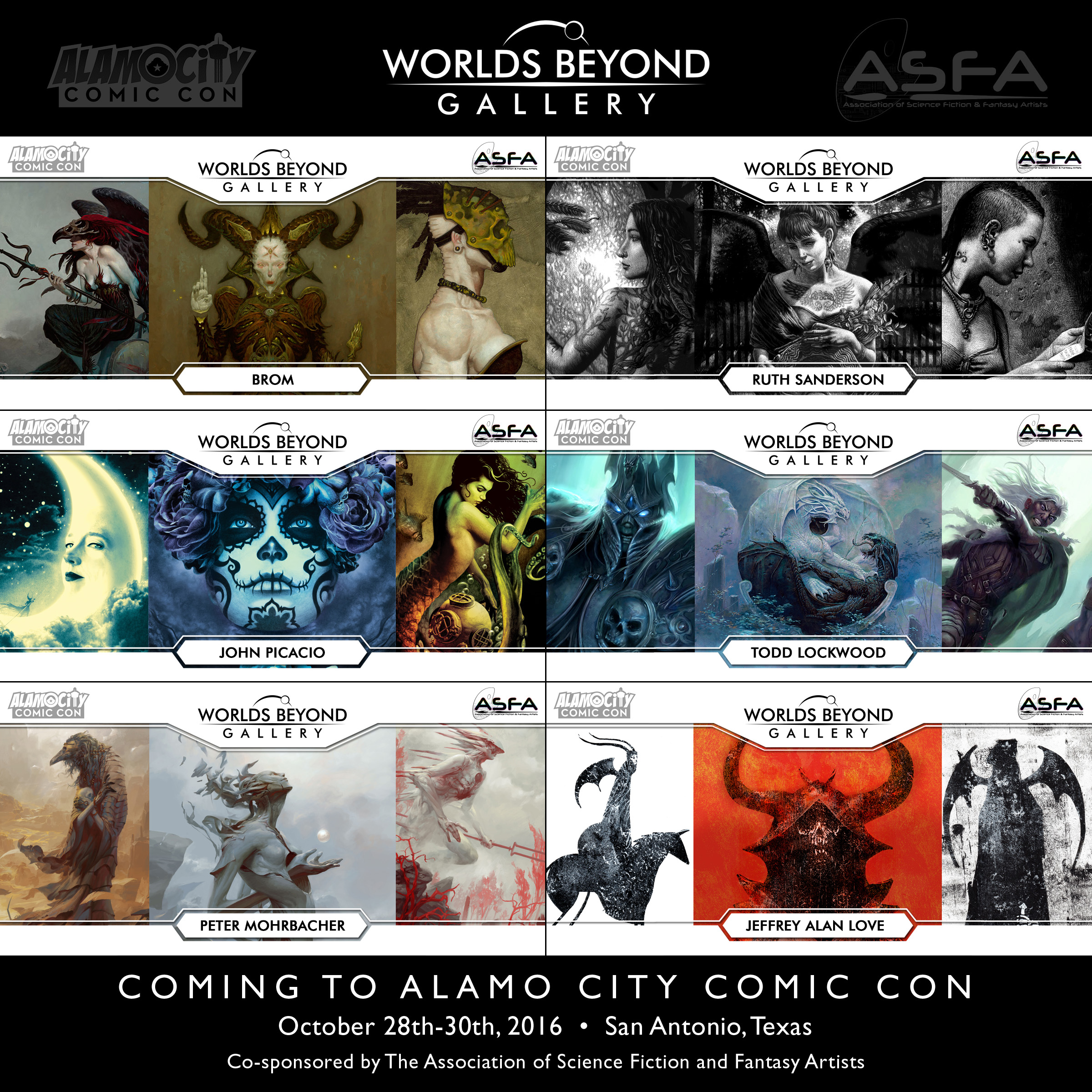 If you love science fiction / fantasy art, San Antonio, TX is the place-to-be this Halloween weekend. Alamo City Comic Con and the Association of Science Fiction and Fantasy Artists are bringing together six major fantasy illustrators for an unforgettable weekend of original art, merchandise, and autographings. The event is called Worlds Beyond Gallery and it features a lineup of professional art talent unlike any previously seen in San Antonio. I'm proud to be part of this inaugural art roster, joining Brom, Todd Lockwood, Ruth Sanderson, Jeffrey Alan Love, and Peter Mohrbacher as this year's guests. Your WBG admission is free with the purchase of an Alamo City Comic Con admission badge, and it all happens at ACCC this October 28-30 at the Henry B. Gonzalez Convention Center.
ACCC and ASFA are offering San Antonio the chance to help expand the arts tradition and expectations in this city. As a native San Antonian, I've often heard locals lament that big cities such as New York, LA, Seattle, and Philadelphia score the coolest new art happenings, while SA misses out. Opportunities are rare for a city to prove itself as an arts leader and build a burgeoning fantasy art market for which other cities can only dream. That's the opportunity facing San Antonio this October. What can you do to further the cause? It's easy.
BE THERE. Get your ACCC badge today and make Worlds Beyond one of your must-see Halloween destinations this year. Be inspired by some of the most imaginative artists working in sf/f, and enjoy one of America's fastest-growing pop culture conventions.
SPREAD THE BUZZ. Visit the Worlds Beyond Gallery Facebook Page and give it a 'Like'. To receive updates on the show, visit the Worlds Beyond Gallery Event Page and let them know you're 'Interested' or 'Going'. These gestures may seem super-easy, but they're both a big boost. If you don't do Facebook — no worries. Use your favorite social media to tell your art-loving friends about Worlds Beyond.
SEIZE THE MOMENT. Start planning your Worlds Beyond visit today. This will be the first appearance in San Antonio for many of the featured artists, and their art is coveted by collectors throughout the world. If you're an art collector, this will be a rare chance to acquire originals and prints directly from the artists without the perils of online buying and shipping. PRO TIP: When you come to ACCC, make WBG one of your early booth destinations. The artists are bringing a limited supply of originals and merchandise with them, and much of it will likely sell quickly. If you're an aspiring illustrator or student, bring your portfolio. Socialize. Ask questions. Use this opportunity to improve your craft. PRO TIP: Be courteous, and choose the time wisely when asking for portfolio advice. If an artist has customers waiting, let he/she attend to those transactions. Be patient and wait for an appropriate moment to approach for advice. 
CREATORS FTW! Yes, all of the artists in this WBG lineup are major professional artists who have enjoyed successful commercial art careers, but all of the artists were chosen because they're each developing their own creative properties. Some are writer / illustrators. Some are developing intellectual properties and merchandising lines. Some are doing both. All are building creator-owned careers and Worlds Beyond was designed by ACCC and ASFA to celebrate that. It's true that amongst the six, you'll see artwork commissioned by familiar franchises such as Star Trek, the X-Men, Magic: The Gathering, Dungeons and Dragons, A Song of Ice and Fire, and many, many more, but what sets this event apart is it's an exhibition of contemporary fantastic art and storymaking wholly owned by the visual creators. This isn't just the future of art, folks. This is the now, and I'm proud to be part of a growing number of pro artists helping to blaze that path for others to follow and succeed.
HALLOWEEN COSPLAY ON THE RIVERWALK!! Need I say more? How epic is the cosplay going to be at this show?? Show off your costume with all of us at Worlds Beyond, even if your best disguise is yourself. 🙂 We can't wait to see who you become. We can't wait to see you there.
(Video by Pete Barnstrom for Alamo City Comic Con.)