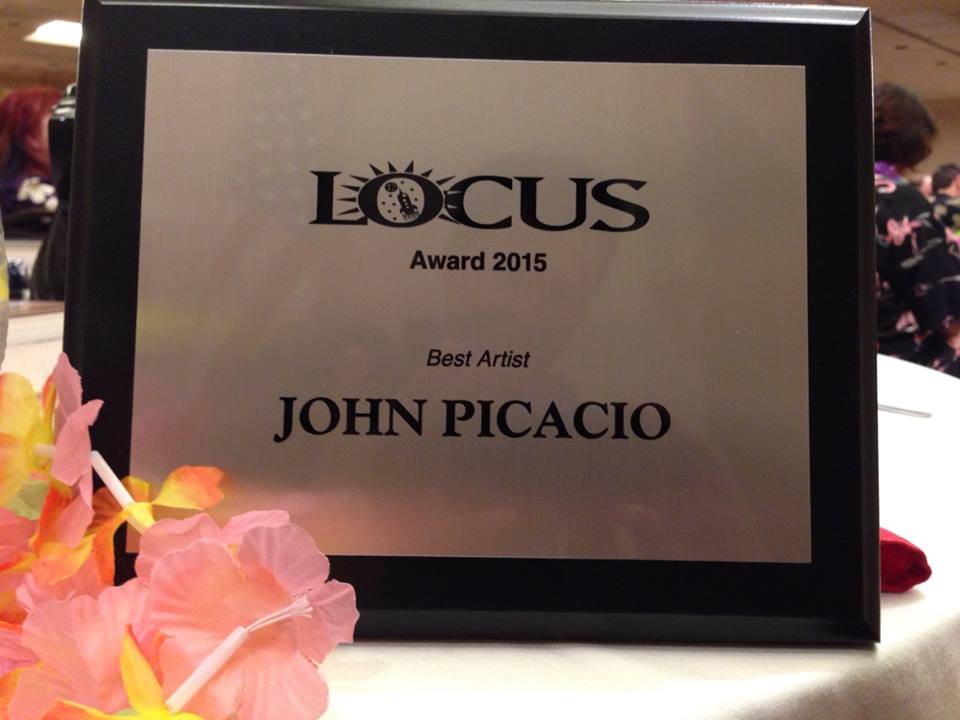 I'm back home from Seattle, and I brought back the 2015 Locus Award in the Best Artist category. Wow. 🙂 I was nominated this year along with Michael Whelan, Jim Burns, Charles Vess, and Shaun Tan. That's a helluva lineup and I have huge respect for all four of those artists. Winning the award is doubly gratifying because it's an acknowledgement of the ongoing Loteria artwork that constituted a large part of my 2014 output. So THANK YOU, Locus Magazine Readers!! This is hugely appreciated.
Going forward, I'm excited to see where Michael is headed as a visual storyteller. I'm stoked to see where Charles is headed with his next illustrated book. Ditto Shaun. And note to self: I need to buy Jim's 2014 art book from Titan.
Congrats to all of the winners and finalists in all of the categories!
* What a great moment to see Jay Lake's daughter Bronwyn, as she accepted his Locus Award for Last Plane to Heaven winning Best Collection.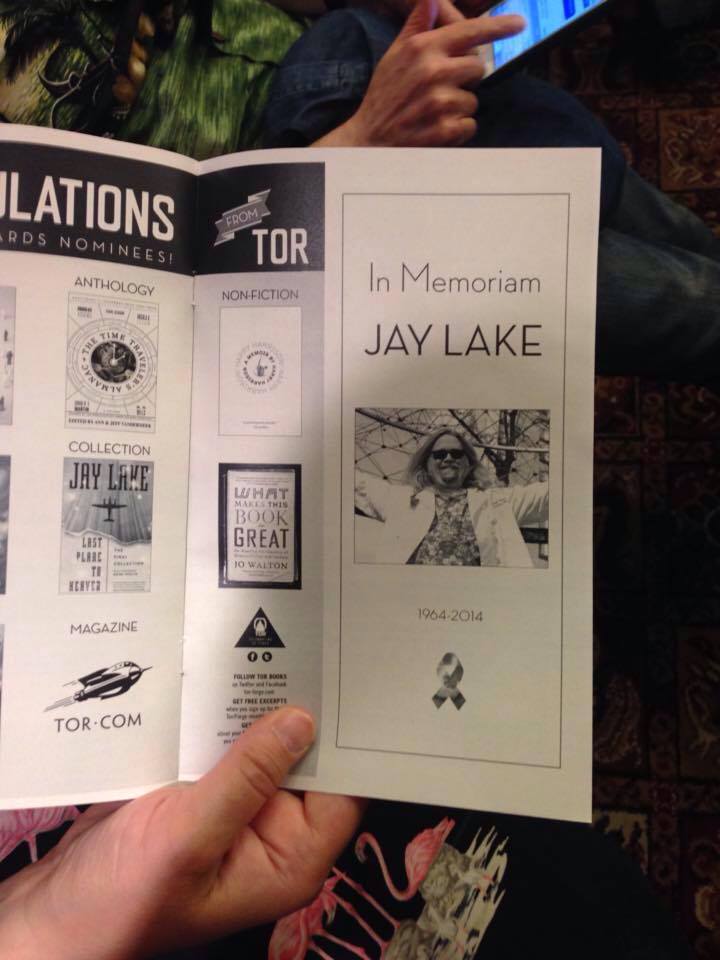 * Congrats to Irene Gallo as Tor.com scored the award for Best Magazine. Well earned, Irene.
* Was great visiting with Brom as he accepted the award for Spectrum 21 (winner, Best Art Book).
* In fact, our Locus Awards banquet table racked up a fair share of hardware as Brom, Del Rey editor Michael Braff, and me were all seated with each other (as luck would have it). Michael ended up accepting for Joe Abercrombie's TWO Locus Awards wins, as well as George R. R. Martin and Gardner Dozois' win for Rogues, as Best Anthology.
* Really enjoyed visiting with Patty Garcia, Tor's Director of Publicity (#Mexican@sFTW!!), Liz Gorinsky, Brooks Peck of the EMP, Jack Skillingstead, Daryl Gregory, Francesca Myman, Arley Sorg, Eileen Gunn, Leslie Howle, Adam Christopher, Ramez Naam, Duane Wilkins, and of course, Liza Groen Trombi, who made this whole endeavor come together (with Connie Willis emceeing the awards ceremony). I'm sure I'm forgetting a ton of people, but I want to say a huge thanks to all of the new friends made, and all who visited my table of Loteria merchandise. Special shoutout to Wilde Rover in Kirkland for hosting Loteria Fest on Thursday night and all who came and played (thanks to Brenda Cooper, Jan Greylorn, and of course, Teeny Ayento)!
In a year when we've seen science fiction/fantasy awards suffer tremendous abuse, both from without and within, there's something extra-special about winning the Locus Award this year. It's because the ballot of nominees felt more like an artful snapshot of excellent works and creators from the most recent calendar year, rather than a collage of vandalisms. This ballot and the winners are decided by science fiction / fantasy readers and art lovers. It's a people's award, open to all. I'm grateful and honored to be recognized within such a diverse, world-class gallery of talent, and it only inspires me to be better with my next works.